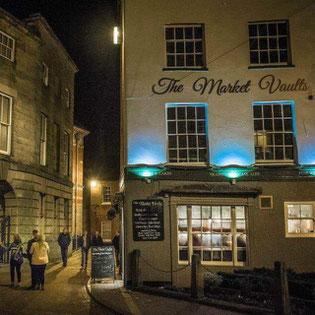 Tucked away around a corner in Stafford town centre is The Market Vaults pub. It's changed names a few times over the years but seems to have settled itself in as one of Stafford's (not so secret!) gems!
With a reputation for great beer, live music & comedy, The Vaults (as we locals refer to it!) has only added to that with some incredible food! They are primarily known for their burgers-100% premium chuck steak locally sourced & with names such as "The Spicy Swine", "The Shawn Michaels" & "Fungus Amongus" you know that these aren't your run of the mill burgers!
Even the sandwiches have interesting names-"Smoke n' Yolk" or "Muffaletta" fortunately the menu describes them in detail!
Extras include Mac n' Cheese & Chilli Cheese fries-all good stick to your ribs food-Weight Watchers/Slimming World need not apply!
Every day brings a new "Burger Du Jour" & this particular day was "The One That Goat Away", Beef Patty, Tempura Chilli Cauliflower, Goats Cheese & Coriander (£11.50) clearly these guys mean business!
Mr W & I are already fans of this fine establishment & a Saturday lunchtime visit was long overdue. You know you're in for a treat when a roll of kitchen towel is placed on your table when you've ordered!
I'd also like to take a moment to mention that the staff are always really friendly & welcoming, you feel like you've come home before you've actually got home!
We both have our favourites on the menu & as this was a day of indulgence-what the heck.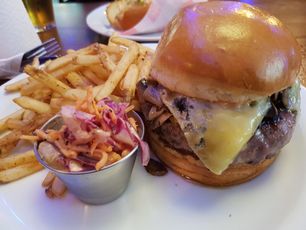 My choice was the Fungus Amongus-8oz beef patty, sauteed mushrooms & house sauce in a brioche bun, served with seasoned fries & rosemary slaw. (£10.50)
I've had it before so I knew what to expect but oh boy I could not get bored with it!
The burger is definitley the star of the show-perfectly cooked & seasoned then piled high with mushrooms & extremely generous dollop of melted blue cheese. The skinny fries are crispy & plentiful, the slaw is tangy & flavourful & cut through the richness of the burger.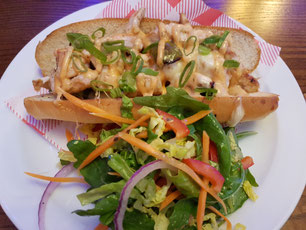 Mr W went for his favourite-The Chicken Philly-Sauteed chicken, green peppers & onions, cheddar, mozzarella & house sauce on a brioche roll served with a dressed house salad (£7)
You know when he's enjoying his food when he goes quiet & so not a peep was heard! Once he had finished though I got a detailed report.
The chicken was tender & juicy & piled high on the roll, the onions & peppers added a great crunch & the fresh zingy salad was a great contrast to all that chicken-y cheesy goodness!
A fantastic lunch in a friendly relaxed atmosphere....my only suggestion? Someone needs to be out the back with a hose-those burgers are messy!!! (Or wet wipes, yeah that would work!)
The Market Vaults
4 St.Martins Place, Stafford, ST16 2LA
01785 256126
www.themarketvaults.com