I've taken some traditional classic dishes & made them sharing friendly! For the fish bites I used Basics/Value fillets & crushed rice crispies for the coating & both worked so well! I would normally avoid deep frying but you really need to for these-well it is a treat! Snack rolls usually come in a pack of 8 so I jusy froze half for another day, & the same for the cocktail sausages as they came in a large pack!
Also, sorry for all the capital letters but there a couple of the recipes involve very hot oil & I'm thinking of your safety!
Serves 4 Approx 91p per person
MENU
SAGE & ONION CHICKEN SLIDERS
MINI TOADS
CRISPY FISH BITES
with
MINTY PEA DIP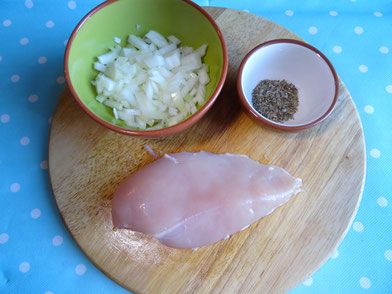 Ingredients
1 large chicken breast
1 small onion, finely chopped
1 ½ tsp dried sage
salt & pepper
1 tbsp olive oil
knob of butter
4 mini snack rolls
Heat the oil & butter in a frying pan over a medium heat. Add the onion & cook for 5 minutes then add the sage. Cook for another 3 minutes until the onion is soft.
Set aside to cool.
Chop the chicken breast into chunks & place into a food processor along with the onion & sage & some salt & pepper. Blitz until finely chopped.
Divide the mixture into 4 & shape into small patties.
Place the chicken patties on to a lightly greased baking tray, cover with cling & pop them into the fridge to chill & firm up for about 20 minutes.
Pre-heat the oven to 180 Fan/200C/Gas6.
Take the patties out of the fridge & remove the cling film.
Place them in the oven for 20 minutes.
Once cooked remove from the oven & allow to rest for 2 minutes.
Split the rolls & put one patty in each.
Serve!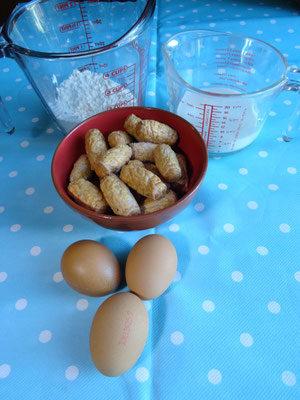 Makes 8
Ingredients
16 cocktail sausages
105g plain flour
3 eggs
150ml milk
salt & pepper
sunflower oil
To make the batter place the flour into a large bowl or jug & beat in the eggs, then gradually stir in the milk until you have a smooth batter. Season with salt & pepper.
This can be made the night before just cover with cling film & keep it in the fridge. Take it out a couple of hours before you need it.
Pre-heat the oven to 200Fan/220C/Gas8
Pour a little sunflower oil into 8 holes of a muffin tin & place in the oven to allow the oil to heat up.
Once the oil is smoking VERY CAREFULLY pour the batter evenly in to each hole. Then AGAIN VERY CAREFULLY place 2 cocktail sausages in each one.
Place back in the oven for 20 minutes until the batter has risen & puffed up.
Serve with a small jug of gravy. (Use gravy granules, don't give yourself extra work!)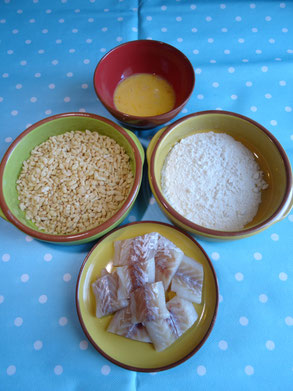 Makes 8 approx
Ingredients
2 white fish fillets, each cut into 4
1 egg, beaten with a little water
2 tbsp flour
3 tbsp puffed rice cereal, crushed roughly
Salt & pepper
Sunflower oil
Get 3 plates or shallow bowls for the flour, egg & crushed cereal.
Take each chunk of fish & dip in the flour to coat it, then the egg & finally the crushed cereal.
Place the coated fish onto a plate while you heat the oil.
Use a either a deep saucepan or wok & fill with sunflower oil NO MORE THAN HALFWAY & heat to between 177C-191C. Alternatively if you have a deep fryer use that!
To check that the oil is hot drop a small piece of bread in, if it sizzles it's ready to go!
Using a slotted spoon CAREFULLY lower the fish into the oil. Do this in batches so as to not crowd the pan.
Allow to cook for 3-4 minutes (I know quick aren't they!) then remove from the oil with your slotted spoon.
Place on some kitchen paper just soak up any excess oil then serve with the Minty Pea Dip which is coming up next!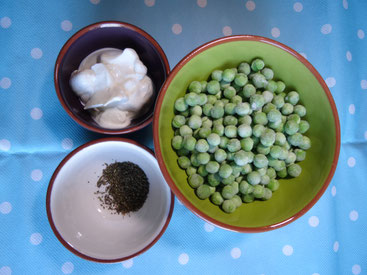 Ingredients
150g frozen peas
1tsp dried mint
2 tbsp crème fraiche
salt & pepper
Cook the peas with the dried mint in boiling salted water for 6-8 minutes.
Drain & allow to cool for a few minutes.
Place the peas into a food processor or mini chopper along with the crème fraiche & some salt & pepper.
Blitz but keep it slightly chunky for some texture.
Check the seasoning & add if needed.
Serve warm. 
Put it all together & you have a real crowd pleaser!!