Following the success of the Lichfield Grub Clubs, the organisers decided to bring some foodie fun to little old Stafford this month much to the delight of myself & Mr W!
The date was set for Thursday 9th August from 5pm-11pm in Stafford's Market Square. We both work in town & as we had been at work all day we were definitely ready.  
We arrived in the square at about 5.45 & things were still pretty quiet but as it was still early we grabbed one of the tables that had been put out.
Deciding what to have was going to be tricky! We took it in turns to have a wander around the stalls, there was a very good mix of food including pizza, thai, hot dogs & burgers, gyros & some sweet offerings like brownies & crepes.
A stage had also been set up on the steps of the Shire Hall ready for music & comedy-it was set to be a fun evening!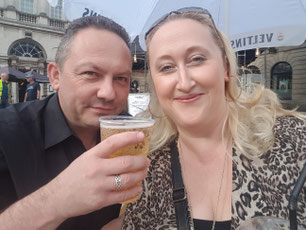 Pom's Kitchen from Lichfield had a pop-up bar along with Butler's Bar a Prosecco & Cocktail Bar housed in a cute 1964 Citroen HY van called Herbert!
We decided to get some drinks first then make a decision on food! I went for a Elderflower Gin Fizz at £7 from Butler's & Mr W tried a Pure Hop cider from Pom's at £4.40.
Time for food! My love for Mexican food kept luring me back to Loco Lobo Tex Mex & after much drooling looking at the menu & settled on the Cajun Chicken Nachos at £6.50.  A mountain of tortilla chips smothered with melty gooey cheese & topped with spicy cajun chicken then drizzled with plenty of sour cream.  As I carried my box of goodies back to our table I realised that it was pretty heavy!
For the price I felt that the quality & portion size was really good. Plenty of chicken which was pleasantly spicy (I had declined extra jalapenos!) & complemented by all the other elements-creamy, gooey, crunchy!!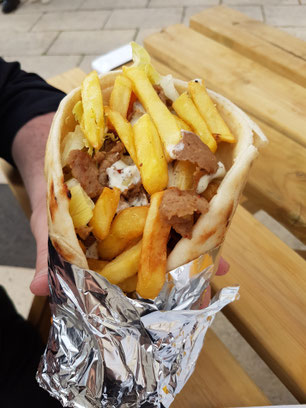 Knowing how much Mr W loves his lamb kebabs it was no surprise to see him return with a Lamb & Mint Yoghurt Gyro (pronounced Yee-ro I'm told!) £6 from Gyro Guys! A satisfying amount of lamb chunks, tender & tasty & along with the salad & fries was very filling! In true Mr W style though he gave it his best shot!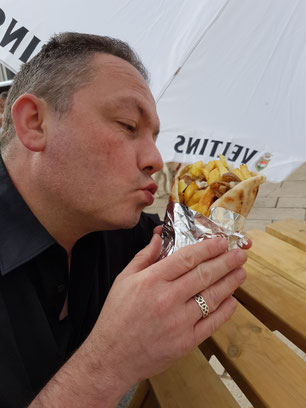 As the portion sizes were very generous we were sadly far too stuffed to sample anything else but all was not lost as we learned that the Stafford Grub Club would indeed be returning on 13th September so another chance to try some more fab street food! I will leave you with a tender moment I captured between Mr W & his Lamb Gyro!