Thomasina Miers is one of my food heros simply because of her passion for the food she creates. It should come as no surprise then that a visit to her restaurant Wahaca has been on my bucket list for a while!
On a recent trip to London Mr W surprised me by announcing on the train journey there that he had booked us a table there for lunch for that day-happy Mrs W! 1.30 couldn't come quick enough & we made it to the Oxford Circus restaurant bang on time.
We were shown to our table straight away & our waiter Carlos explained the menu to us. The menu (on paper & doubles as your place mat!) is easy to navigate. The sections are Nibbles, Street Food, Bigger Food & Sides oh & Desserts mustn't forget about them! Carlos also told us about the specials but I think we already knew what we wanted!
The street food section is made up of small plates & they recommend 2-3 plates per person which is a great way to try lots of different dishes. However the Wahaca Feast was our choice at £34 for two to share they describe it as "A menu for adventurers to discover our favourites" & it sounded perfect for us!
There is a decent cocktail menu also & pretty reasonably priced we felt. I went for the Hibiscus Margarita & Mr W chose the Classic Margarita both £6.95.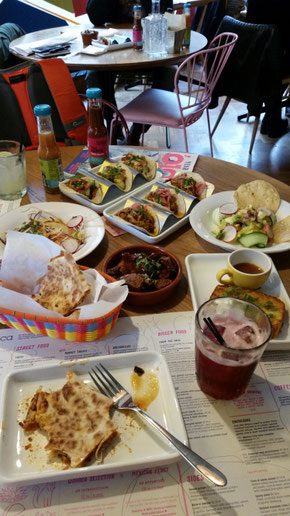 Our food started to arrive beginning with some Chipotle Chicken Quesadillas, really tasty & slightly gooey with cheese we tucked in straight away. The rest followed shortly after-Pork Pibil Tacos (my favourite!) Juicy & delicious & topped with pink pickled onions. Summer Pea & Mint Empanadas-crispy & packed with flavour, Cactus & Courgette Tacos-unusual but equally good. Mr W's favourite was an amazing dish of Scallop & Shrimp Ceviche served with little crispy tortillas, absolutely divine! Last but by not least was the most heavenly Toasted Corn Bread with Chipotle Honey Butter that I could have happily eaten all by myself!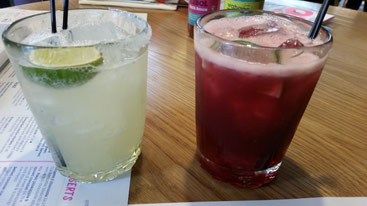 Not forgetting our fab cocktails my Hibiscus Margarita was delicious with a fruity Cranberry flavour & Mr W was more than happy with his Classic (we had two each!)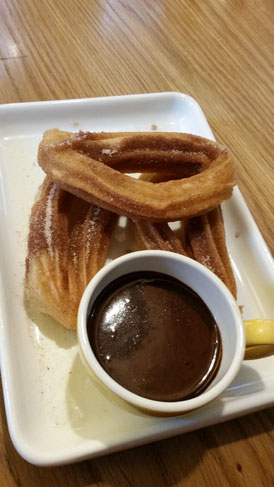 We basically gorged ourselves on this amazing spread with no shame whatsoever (the fact that we were walking back to our hotel didn't seem important at the time!)
Included in this delicious feast were Churros for dessert-gorgeous little doughnutty morsels served with the richest smoothest choclate sauce & yes I did have room!
Wahaca is definitely the place to go for truly authentic Mexican food & considering its central London location the prices were very reasonable indeed!
P.S. We did make it back to our hotel...just very slowly!