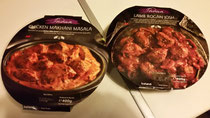 As much as I love to cook sometimes it's nice to have a night off & tonight was no exception! These ready to cook curries are part of their "Premium" range & thanks to Mr W were our dinner this evening at £2.59 each!
He chose the Chicken Makhani Masala & the Lamb Rogan Josh, we decided to share them rather than have one each & had pilau rice & naan bread that we already had in the cupboard.
The Makhani had plenty of soft tender chunks of Chicken in a creamy, slightly spicy sauce. Equally there was a decent amount of Lamb in the Rogan Josh but although it was tender we weren't too keen on the slightly fatty taste (which lingered for a while after!) The sauce was pleasant enough, spicier than the Makhani but not overly so. I think we definitely both preferred the Chicken Makhani & would have it again! For an overall we would give them 7/10!